360 Degree Academy
Transition Services
Available in State of Illinois
TABLE OF CONTENTS
Transition Services
Transition Services Overview
Program Details
Program Delivery Modes
Funding Options
Student Services Registration Form
Frequently Asked Questions (FAQ)
Contact Information
Our career and college exploration online and/or onsite clinics are designed for deaf, hard of hearing, deafblind, late-deafened, and unilaterally deaf* high school students**, and are made possible due to an interagency collaboration throughout the school year and summer.
*360 Degree Academy has made a commitment to being inclusive and respects choices made by individuals who may describe themselves differently (e.g., their cultural identity, type of hearing loss, and/or communication preferences). The company also respects that identity may be fluid and communication preference may change over time or from one setting to another.
**Students may need to be within a specific age range which varies from state to state.
TRANSITION SERVICES OVERVIEW
360 Degree Academy is a premier nationwide provider of a robust transition-focused curriculum tailored specifically for Services for Deaf, Hard of Hearing, DeafBlind, Late-Deafened, and Unilaterally Deaf high school students. The curriculum is fully accessible to various communication methods which are accomplished through the following:
Direct instruction in American Sign Language (ASL) for those who uses this as their primary choice of communication

Voice over for those who are hard of hearing and/or uses their residual hearing who rely on oral/spoken communication)

Captioning (for those who wish to read while listening)

Transcript (for those who have visual support needs)
program details
Our robust and comprehensive living curriculum encompassing 190+ videos totaling 17+ hours of content in addition to comprehension checks (quizzes) covers the following domains:
Understanding of Laws
Job Exploration
Getting Ready to Work
Education & Training After High School
Social & Independent Living Skills
Self-Advocacy
Possible Delivery Modes
Option 1—Online curriculum to facilitate online flipped instruction offered by school personnel or transition service providers


Description: This online curriculum is designed to be viewable from within the classroom or any other location convenient to the users and can supplement existing programming or form the foundation of transition skills instruction. The level of support will directly correlate with student's ability to complete an online self-paced curriculum with some students requiring limited support while others requiring extensive support.

This delivery mode will also include the following resources:
- IEP Goals at a Glance to facilitate the completion of student's career-focused goals
- Instructor Guide with supporting activities
- Complimentary Instructor License will be made available to the assigned support staff assisting the student to monitor progress and generate progress reports.
- Implementation technical assistance

Funding:
- Fee-for-Service: After the appropriate referral and approval is completed, Vocational Rehabilitation will authorize the purchase of a license for each eligible high school student. The student will continue to have access to the curriculum until the student has exited from high school.
- School District Purchase: The school district or schools for the Deaf also have the option to purchase a school district wide license for unlimited use on an annual basis. The student will continue to have access to the curriculum until the student has exited from high school.


Option 2—5-Days Onsite Transition Clinic


Description: Thirty hours of targeted on-site outcome-driven transition skills instruction - 6 focused hours per day for 5 consecutive days - is offered onsite in a day or overnight program and is best achieved through an interagency collaboration between the host site, school district(s), and Vocational Rehabilitation. This format also offers the opportunity for rich and organic interaction with peers and adult role models. Support staff who would be assisting participants after the onsite program may be offered observation and training options. The participants and their support staff will also receive a complimentary license online curriculum as described above in Option 1 as well as an individualized assessment report.


Funding: Each state has unique funding mechanisms and approval processes which may include the fee-for-service model. Please reach out to us at [email protected] to explore possibilities that best meet your needs
.
FUNDING OPTIONS
360 Degree Academy is an approved state vendor within multiple states. If the student is currently a resident of one of the states we serve, the student may receive financial assistance to cover the tuition fee from their state's Vocational Rehabilitation. 360 Degree Academy is prohibited from initiating service without appropriate authorization but can assist in the referral process.
If the above option is not available for a specific student, the school district or families may directly purchase the online curriculum on a case-by-case basis. Please contact us at
[email protected]
to discuss this.
Illinois Student Services Registration Form
Download and complete the online registration form to request a fee-for-service authorization from the Division of Rehabilitation Services for 360 Degree Academy's online curriculum.
FAQ
1) How can a Deaf, Hard of Hearing, DeafBlind, Late-Deafened, and Unilaterally Deaf student become eligible?
- Students must fall within the age range required by the state in order to potentially receive funding.
- Provide documentation with a diagnosis of a hearing loss (e.g., audiogram, IEP, 504 Plan, etc)
- Complete referral form for your state Vocational Rehabilitation

2) What type of students can attend or benefit from this program?
Students from this population are very diverse with many factors that would determine a student's ability to benefit from this program, including expected outcomes that would define a successful educational experience. The following table is only to illustrate the general guidelines; the whole student must be taken into consideration.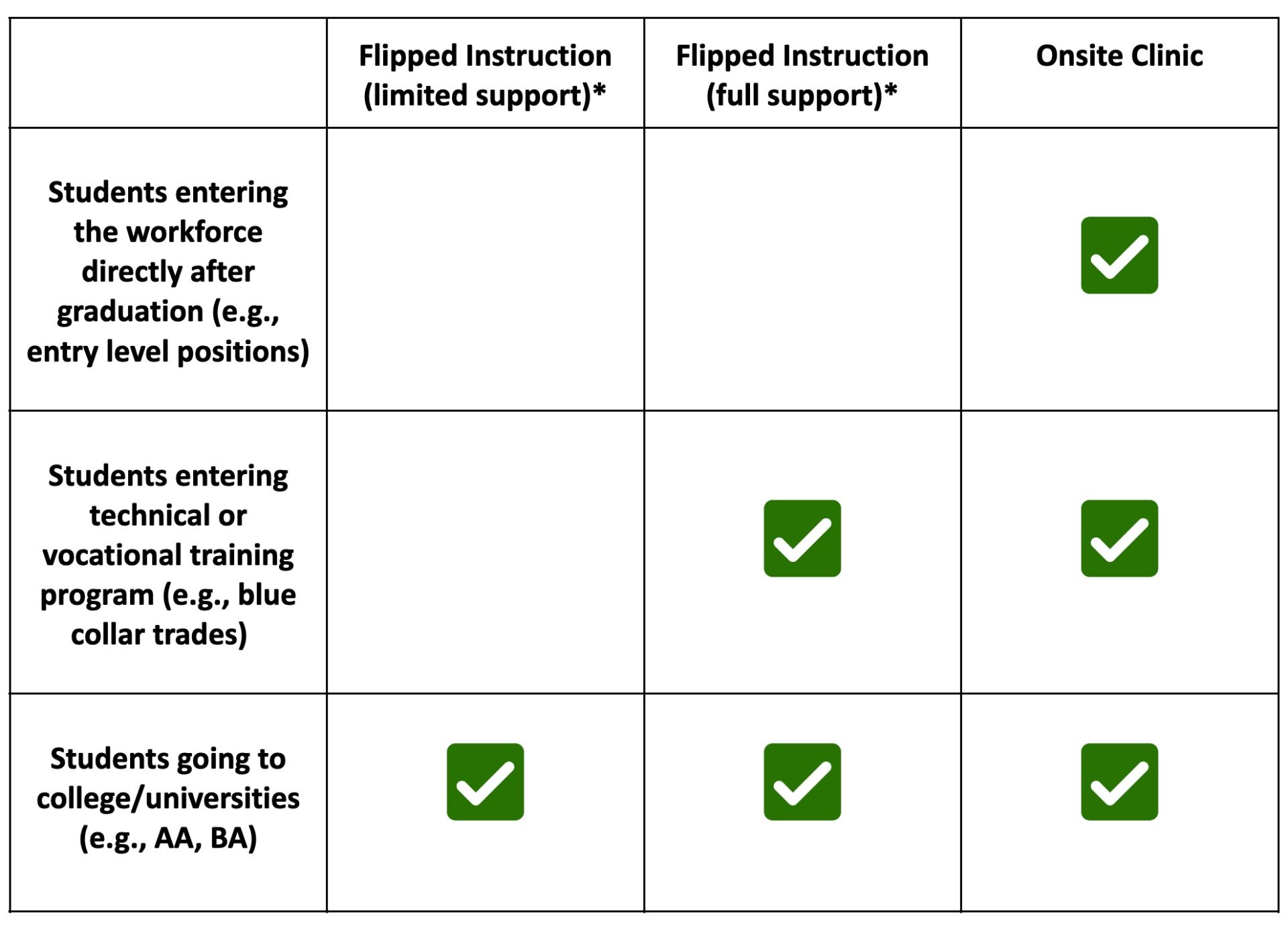 * Limited support is support staff providing regular check-ins and limited differentiated instruction while full support means a teacher or service provider devoting instructional time at least once a week to review and discuss the curriculum as the student progresses.
3) Can the participant attend less than the full program or session?
No, the participant must have the goal to attend and complete the full program in order to receive a certification of completion.
CONTACT INFORMATION
Student Referral: Please download and submit the Illinois Student Services Registration Form shown above.


Please email us at
[email protected]
for the following:
- Exploring the Possibility of Local, Statewide, or Regional Onsite Clinic
- Discuss Direct or Private Payment Arrangements
- Request a 1-Hour Live Demonstration